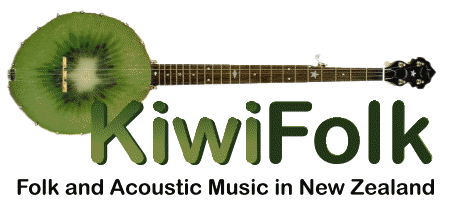 Links
Links of interest to folkies, culled from the The NZ-Folk list.

JUMP TO:
FOLK AROUND THE WORLD
FOLK MUSIC ARCHIVES
INSTRUMENTS
NEW LINKS
NEW ZEALAND FOLK AND ACOUSTIC MUSIC



New Links
7/7/2015
UK Folk Music
http://ukfolkmusic.co.uk
We are packed with information and reviews for folk artists, listing folk clubs and morris sides. We also produce a monthly folk music show which features new releases here in the UK.
18/10/2011
Folkinfo
http://www.folkinfo.org/forum/default.php
We hope you:
Enjoy our growing collection of traditional folk songs which are available in a variety of formats (abc, png, pdf and MIDI) for viewing, printing and listening to.
Feel welcome to participate in our discussion forum.
Find our regional listings of folk clubs and sessions useful
20/2/2011
Banjo Tutorials
http://www.videojug.com/tag/banjo
The company that runs this site requested a listing. See what you think.
12/3/2010
Autoharp
http://www.autoharpusa.com
"www.autoharpusa.com is a website that is committed in bringing you the best quality Autoharps available online and focused on serving you cope with your musical needs. We provide all Autoharp accessories along with the best made Autoharps so that you can play the best music."
21/2/2010
House Concerts Australia
http://www.houseconcertsaustralia.ning.com
My name is Lisa Aston and I am an Australian singer/songwriter who has also spent most of her life supporting and promoting other artists. I have recently founded House Concerts Australia . My vision for HCA is to create a tour circuit for Aussie and Kiwi indie acoustic artists. My background of some 25 years in the oz music biz does give me some professional ability to make this happen.
16/7/2008
Music Theory and History Online
http://www.dolmetsch.com/theoryintro.htm
A magnificent resource supplied by Dolmetsch.
A Traditional Music Library
http://www.traditionalmusic.co.uk/index.html
A large traditional and folk music library of songbooks, tune-books, sheet-music, lyrics, midis, tablature, plus music theory, chord diagrams, scales and other music educational & academic reference materials.
24/3/2008
Learn Guitar Online
http://mashable.com/2008/03/02/learn-guitar-online
A useful variety of resources for learning to play the guitar.
A Traditional Music Library
http://www.traditionalmusic.co.uk/
More resourcest than you can shake a banjo at...
7/2/2008
Some myths about microphones
http://www.shurenotes.com/issue27/article.html
A little technical, but very interesting.
22/1/2008
The World's Oldest Guitar?
http://www.frets.com/FRETSPages/History/Diaz1590/diaz1590.html
A very old instrument.
A Guide to the Irish Flute
http://www.firescribble.net/flute/index.html
Resources for beginners and experienced players.
The Flow
http://www.theflow.org.uk/index.html
"...a personal appreciation of traditional Irish flute playing styles..."
How to play the Irish flute
http://video.google.co.uk/videosearch?q=expertvillage+flute+irish&num=10&so=1&start=0
Youtube videos

7/12/2007
Fado
http://paginas.fe.up.pt/~fado/eng/index-eng.html
A page about this style of Portuguese music.
Roots of American Fiddle Music
http://www.1001tunes.com/
Lots of tunes and other things.
Native Ground Music
http://www.nativeground.com/
American music and folklore.
Encyclopaedia of Cajun Culture
http://www.cajunculture.com/
All things Cajun.
English Folk Performers
http://web.ukonline.co.uk/martin.nail/artists.htm
A directory
Digital Library of Appalachia
http://www.aca-dla.org/DLAMUSIC/dlamusic.html
Includes a lot of recordings - free.
10/9/2007
TonalityGUIDE
http://www.tonalityguide.com/
A page where you can learn about tonality, chord progressions etc.
3/9/2007
The Muse's Muse
http://www.musesmuse.com/
A useful songwriting resource.
Mandotunes
http://www.mandotunes.com/homerecordings/
A collection of home recordings of mandolin tunes.
2/8/2007
Lombardy Folk Music Stuff
http://www.hamishcurrie.me.uk
Useful information on how to start a folk club, how to approach your first session, how to breathe when singing etc.
Updated 30/8/2010
5-String Banjo!
http://www.trussel.com/f_banj.htm
A page of links and resources.
24/6/2007
Sami Drums
http://www.fredrikgille.com/drums/samidrums.htm
2/6/2007
The Fiddlers' Companion
http://www.ibiblio.org/fiddlers/
A Descriptive Index of North American and British Isles Music for the Folk Violin and Other Instruments, by Andrew Kuntz
Atushi Ojisama and Ijigen Waltz
http://farm1.static.flickr.com/156/406256910_5a9bd77b37_o.jpg
A difficult piece of music to play, but interesting to look at! (See also http://farm1.static.flickr.com/172/406258142_b7c5d0c2f0_o.jpg.)
Frets Pages
http://www.frets.com/FRETSPages/pagelist.html
A useful link for players of fretted instruments.
The Care and Feeding of Banjos
http://www.oldtimebanjo.com/folders/banjo%20care%20&%20feeding.htm
The Oldest Song in the World
http://www-news.uchicago.edu/citations/07/070402.oldsong-ct.html
The National (US) Music Museum
http://www.usd.edu/smm/
"America's Shrine to Music on the Campus of The University of South Dakota"
Kyrgyzmusic
http://www.kyrgyzmusic.com/
Music of the Kyrgyz people of Central Asia.
Music Theory for Songwriters
http://chordmaps.com/
FolkLib: a library of folk music links
http://www.folklib.net/

8/5/2007
Nyckelharpa (Swedish Key Fiddle)
http://www.youtube.com/profile?user=liraman
A movie about the nyckelharpa, including a short interview (in Swedish) with Sture Sahlström and clips from the great Österby nyckelharpa stämma plus the Tobo Nyckelharpa institute. You'll find it here together with some other musical clips & interviews that include one with Eugene Lambe, a pipe and flute maker from Kinvara, Ireland.

29/3/2009
Musical Instruments Made from Matchsticks.
http://www.catfish1952.com/MatchstickMan.html

Frets
http://www.frets.com/FRETSPages/pagelist.html
A site filled with information about fretted instruments and how to repair them.
26/2/2007
Video: Vin Garbutt
http://www.youtube.com/watch?v=YZOV_yOyRJ4
YouTube video of Vin Garbutt in action.
Video: Kathryn Tickell
http://www.youtube.com/watch?v=y_N7yXY0BeA
YouTube video of Kathryn Tickell. A few shots of the band, but quite a lot of shots of scenery.
The Washtub Bass Page
http://tubotonia.freehomepage.com/Tublinks.html
A complete resource for the washtub bass (or the bush bass)
Scalloped Fretboards
http://www.ancient-future.com/guitar/scallop.html
Information on scalloped fretboards and how they're used.
Pakistani Music
http://taheny.com/2007/02/pakistan-music.htm
Video samples of various different forms of traditional music in Pakistan
15/2/2007
American and British Folk Artists
www.wku.edu/~smithch/essays/FOLK111.htm
Large instruments of the Yi people of China
http://www.cnynsl.com/ShowArticle.asp?ArticleID=616
27/1/2007
Chord Hat (YouTube)
http://www.youtube.com/watch?v=bexIdm0awwo
Play along. This is a little difficult to describe, but is explained well in the video.
Indonesia Irish community
http://www.indoirish.com/
Charles Jeffries (for concertina aficionados)
http://www.concertina.com/jeffries/man-and-family/
Scala
http://www.xs4all.nl/~huygensf/scala/
A free program for those who want to experiment with new scales, modes and harmonies.
Name that Guitar Chord
http://www.all-guitar-chords.com/chord_name.php
Input the finger positions and find the name.
Keyboard chord finder
http://www.gootar.com/piano/
Input the keys: find the name of the chord
MuseOn
http://dbhovel.com/Extras/MuseOn.aspx
This one seems to identify chords in recorded music.
New Zealand Folk and Acoustic Music
Bay Folk
Folk music and dance in Hawkes Bay.
Blues News
The homepage of the New Zealand Blues Society.
Celtic Music NZ
This site aims to provide New Zealanders interested in Celtic music (particularly Irish and Scottish) a starting point, a place to find an instrument, a teacher or an event to go to. It also aims to develop networks within the Celtic music community in New Zealand. We are also aiming to establish some links between the dancing and the music.
Folk Dance New Zealand
Links and contacts for folk dancing groups throughout NZ.
Fran's Music Photos
Photos of NZ folk music events.
GANZ
The Guitar Association of New Zealand
Kea Imagineering
Andrew MacKay's commercial site featuring photos of many NZ folk music events.
Kiwi Pacific Records
The Music, Voices and Sounds of New Zealand and the Pacific"
Maorimusic.com
Recordings. The local product...
Monde Marie
A site telling the history of a NZ Folk-friendly venue of the past.
New Zealand Celtic Music
A forum for Celtic music in Godzone.
New Zealand Fok Archive
Sound archives from the 70s, compiled by Chris Brady
New Zealand Folk Forum
A place to share notices, photos...
New Zealand Folk List
New Zealanders and others who are interested in folk music. Subscribe online here.
New Zealand Folk Music Venues
A Google Map.
New Zealand Folk Song
John Archer's page of New Zealand songs and songwriters, with an accent on the folky.
New Zealand Irish Directory
Irish clubs and societies throughout the country.
New Zealand Morris Dancing
"Jingle bells, jingle bells..."
Noblewoman: NZ Women in Folk Traditions
Noblewoman is an online networking space profiling and promoting female folk musicians and dancers in New Zealand. Our mission is to strengthen the folk community in New Zealand through events, education and unique representation of the genre. We are aiming to raise the bar of professionalism and challenge current perceptions of folk music and dance practice. We offer female folk musicians and dancers in New Zealand an opportunity to be part of a dynamic community, to participate in Noblewoman events and to promote themselves through the website.
NZacoustic
"This site is designed to promote roots music in NZ and to help artists promote themselves by giving them a professional website at a fraction of the commercial cost"
Eventfinder
Post your folk event here. "New Zealand culture online."
The Temple
"The Temple is the only dedicated original NZ music venue in Auckland"
Folk Music Archives
Ceolas
An extremely comprehensive page of celtic artists, recordings, music and much more.
JC's ABC Music
Celtic, Balkan... any sort of tune you can think of, all in ABC format. But you can also search from here for tunes in MIDI, GIF or a number of other formats - found in sites all over the Internet.
Mudcat Cafe
A searchable online archive of just about every folk song there ever was...
Instruments
Bodhran
Rumble, rumble, rumble...
Concertina FAQ
Your concertina questions answered.
Mandolin Cafe
Mandolins and mandolining, with an emphasis on bluegrass.
Wholenote
Links to almost everything for the guitarist.
Folk Around the World
BBC Folk Pages
Radio 2's "online home of folk and acoustic music"
The Boîte
A music organisation based in Melbourne.
Club Acoustica in Sydney
An expanding Sydney based Acoustic organisation.
Folk and Roots
A British site dealing with - well, folk and roots music.
Folk Alliance Australia
The website of the Folk Alliance of our nearest neighbours.
Folk Australia
Links to folk sites and festivals around Australia. Artists, tours, news etc.
Folkclub Online
"Dedicated to Folk music and related subjects. It is a meeting place where Folk enthusiasts world-wide can share ideas and experiences, gather up resources and be entertained."
Lark In the Morning
Online shopping for just about any folk instrument you can think of - and many you never heard of!